Barolo: A Classification of Vineyards
By Antonio Galloni
Trying to gain an understanding of the vineyards of Barolo has been an all-consuming passion since I started visiting Piedmont 18 years ago. Over the last few years in particular I have begun to collect my thoughts on the region and its vineyards. Barolo: A Classification of Vineyards is the result of that work. Any ranking of vineyard sites is of course very personal and subjective. This classification is based on years of traveling throughout the region and a lifetime of buying, cellaring and drinking the wines of Barolo.
For the last few years winemakers and local authorities in Piedmont have been engaged in an exercise to formally define the boundaries and names of the vineyards in Barolo and Barbaresco. There are now 166 official Menzioni Geografiche Aggiuntive, which loosely translates to Additional Geographical Definitions, many of which I imagine readers have never heard of. Frankly, I've never heard of some of these sites. Getting producers to agree on anything is next to impossible, but the biggest problem with the new Menzioni is that each town was left to its own devices in setting the criteria for defining vineyards and naming conventions. That means there are villages like Serralunga where serious work was undertaken and the vineyard boundaries are quite specific. In other cases, Monforte being the biggest culprit, politics won out over common sense, which leaves the consumer and general public with an area called 'Bussia' that is so large it has been rendered meaningless. Ironically, it is the consumer, who in buying a bottle of Barolo supports every grape grower, winery owner, winery employee and person who makes a living off of the wine trade, who is the biggest loser. Let me state it simply. Without the consumer, no one in Barolo would have a job, much less enjoy the wealth that can be created by making wine in a prestigious appellation.
The steep hills of Monprivato, Castiglione Falletto, with VIllero and Boroli's Cascina La Brunella in the background
In order to make new Menzioni easy to navigate, I have broken down the sites into four macro categories: Exceptional, Outstanding, Noteworthy and Delimited. These are roughly analogous to the Burgundian Grand Cru, Premier Cru, villages and regional appellations. One of the main differences between Piedmont and Burgundy is that in Piedmont vineyard designations often encompass an entire hill from top to bottom, as we see when looking at sites such as Cascina Francia, Monprivato and Bricco Boschis. In Burgundy, the Grand Crus are almost all mid-slope and rarely cover an entire hillside, Clos St. Jacques, and Clos de Tart being two notable exceptions. In a perfect world, Piedmont's vineyards would be divided into smaller, more specific portions within the vineyards that already exist. But we don't live in a perfect world. The hills in Piedmont are also quite steep and snaking in their contours, which means vineyards often have multiple exposures, as we see in places like Cannubi Boschis and Falletto. Within vineyards, surface areas tend to be more even, with fewer of the sudden dips one often encounters in Burgundy. Lastly, there are also no walled-in clos-like vineyards in Piemonte.

Roberto Voerzio's vineyards in Cerequio, La Morra

Using the Classification of Barolo Vineyards with the Interactive Barolo Map
In order to help readers increase their familiarity with the vineyards of Barolo, I have included a brief description of the attributes of each site in our Interactive Barolo Map. I have also listed reference point wines for each site. These are the Barolos I would choose if I were leading a tasting or class. Some vineyards, such as Brunate and Cerequio, are shared by two villages. Where that is the case, I have listed both. In some instances it is difficult, if not virtually impossible, to separate the quality of a site from the grower who is most associated with a specific piece of land. That is the case with Giacomo Conterno and Cascina Francia (a monopole), Giuseppe Mascarello with Monprivato (a near-monopole) and Luciano Sandrone, who literally put Cannubi Boschis on the map. Here it is essential to look at the performance of a vineyard over years and decades. Just like Burgundy, Piedmont has a number of important vineyards that can at times reach or surpass the level of the very best sites, depending on the vintage and producer. These include Arborina, Bricco delle Viole, Bricco Rocche, Cannubi Boschis, Cannubi San Lorenzo, Cicala, Fiasco, Garblet Suè, La Serra, Lazzarito, Perno, Pianpolvere Soprana, Ravera, Sarmassa and Villero, all sites that are Piedmont's equivalent of vineyards such as Amoureuses, Malconsorts, Cros Parantoux, Cazetiers and Clos St. Jacques.
Ranking the Vineyards
Exceptional - Vineyards that consistently produce distinctive wines of a very high level, irrespective of the quality or style of the year. These sites perform well in vintages of all kinds, i.e. cold, hot, rainy, dry etc., and always show their personality. Exceptional vineyards yield wines that have demonstrated an ability to develop positively in bottle. In short, this is the pinnacle of Barolo. 
Outstanding - These sites often produce wines of true personality and class, but do so less consistently than Exceptional vineyards. In the hands of a diligent producer and/or in great years, the best of the sites can challenge the big boys.
Noteworthy - A vineyard that over the years has proven to be the source of distinctive wines. 
Delimited - A geographically delimited vineyard, often with little or no track record and/or an undistinguished track record.
Ranking the Vineyards – The Criteria

1.      Any ranking of vineyard sites is of course very personal and subjective. This classification is based on years of traveling throughout the region and a lifetime of buying, cellaring and drinking the wines of Barolo.

2.      The ranking of vineyards is based on tangible evidence. In other words, what is in the bottle. A site from which no single-vineyard Barolo has been produced can't be considered Exceptional or Outstanding.
3.      Large areas of historic significance that are best described as districts are classified as Noteworthy. These includes Bussia and Cannubi. Ginestra is a borderline and slightly less egregious case where I have chosen to include the entire Menzione as one site.
4.      Ranking is done according to the present-day performance of vineyards and wines. While I recognize the historical significance of previous classifications and hold the work of fellow writers on the subject in the highest esteem, earlier classifications of the vineyards of Barolo are not taken into consideration here. 
5.      Historically, south-facing parcels at the top of hillsides, also known as sorì, were considered the best spots. Piedmont was a cold, inhospitable region where grapes struggled to ripen. These sites, with their relatively warm micro-climates, were considered the most desirable. With climate change becoming more pronounced, it is no longer clear these will be the most favored or best vineyards going forward. At the same time, vineyards such as Bricco delle Viole or Ravera (in Novello), where wines have at times been a bit austere, may stand to gain from climate change. So, a certain level of contemporary analysis and flexibility is a must. This is especially true in considering the new Menzioni, some of which may be upgraded in the future.
6.      Vineyards with little or no track record are defined simply as Delimited.
7.      While I fervently believe in the importance of terroir as a fundamental concept, I also believe that the biggest single factor that drives quality in wine is the talent and dedication of the producer. An average producer with a great vineyard will still make an average wine more often than not, but a gifted producer can raise the quality of a vineyard, as we have seen with Luciano Sandrone in Cannubi Boschis, Elio Altare in Arborina, Roberto Voerzio in Fossati and Roberto Conterno in Cerretta.
8.      This classification was created for educational purposes only and was developed completely independently and outside of any political or economic considerations of any kind.
Bricco Fiasco, Castiglione Falletto
Barolo vineyards get UNESCO World Heritage status
Wednesday 25 June 2014
by

Chris Mercer
Image credit: Consortium for Barolo and Barbaresco

The World Heritage Committee of the United Nations body, meeting in Doha this week, added the 'vineyard landscape of Piedmont: Langhe-Roero and Monferrato' to its elite group of cultural and natural sites and practices.

The listing includes the towns of Barolo, Castiglione Falletto Grinzane Cavour, La Morra, Monforte d'Alba, Novello and Serralunga d'Alba in the Barolo DOCG, as well as Barbaresco and Neive in the Barbaresco DOCG.

There are now 1,007 sites on UNESCO's list and Piedmont vineyards now join Bordeaux's Saint Emilion and traditional Georgian winemaking methods in representing wine.
'It's about time,' said David Berry Green, Italian wine buyer for Berry Bros & Rudd and who lives in Piedmont. He described the Langhe as the 'world's last undiscovered fine wine region'.
He told Decanter.com, 'Importantly, this should encourage producers to take responsibility for their immediate environment, persuading them to adapt more environmentally friendly viticultural practices, indeed to aim for organic status. A stop to the still widespread use of herbicide would be an obvious start.'
In its submission for Piedmont, Italy's government said, 'Vine pollen has been found in the area dating from the 5th Century BC'. It added that Piedmont was seen as one of the best vine growing areas in Italy during the Roman Empire.
Pietro Ratti, president of the local Consortium for Barolo and Barbaresco, said the listing gives 'proper recognition' to winemakers who have preserved the region's landscape and respected its traditions.

Piedmont's listing bodes well for both Champagne and Burgundy, which were earlier this year proposed for World Heritage status by the French government. A decision is expected in 2015.

Decanter.com
2010 Barolo: Flying High Again - part 1

By Antonio Galloni
The 2010 vintage in Barolo is shaping up to be a modern-day classic. The cool growing season produced transparent, vibrant Barolos that pulsate with tension, crystalline purity and site-specific nuance.
Vintage 2010 Overview
The 2010 Barolos have all of the attributes of a cool, late-ripening vintage; expressive aromatics, chiseled fruit, plenty of site-specificity and the potential to develop beautifully for years and decades in bottle.  At the same time, the wines have gorgeous depth and richness, perhaps a result of the high temperatures in July. Next to the 2008s, which were generally brought in later, the 2010s have a bit less aromatic intensity, more tannic clout and greater overall structure. A number of growers mentioned that the berry size was small in 2010, which explains why the wines have the tannic presence they do. As always, there are a handful of underperforming wines, but they are the exception rather than the rule. In general terms, it is clear the Barolos are more successful than the 2010 Barbarescos, pointing out the need once again to consider each of these two areas individually. The 2010 Barolos are also several notches higher in quality and far more exciting than the 2009s.
Overall, 2010 can be characterized as a vintage with cooler than normal temperatures and a mid-October harvest for Nebbiolo. Total degree days were lower than both 2009 and 2011. Growers reported fairly normal conditions during fruit set, although for some estates rain in early May delayed flowering. June saw quite a bit of rain, but towards the end of the month, after flowering was completed. July was very dry with daytime temperatures at the high end of normal. Evenings were cool throughout the summer months, creating the diurnal temperature swings that are so favorable for gradual, even ripening. October brought with it high amounts of rain. Well-drained sites handled the rain well, but some vineyards were penalized. In a cool, rainy vintage, proper balance in the vineyards and reasonable crop loads were especially critical. Most estates harvested their Nebbiolos around the middle of October, which today is regarded as a normal time frame. By comparison, both 2008 and 2013 were quite a bit later, while 2007 and 2009 were earlier harvests.
Readers who have tasted the 2010s from Tuscany (especially Chianti Classico) and/or the 2010 Red Burgundies will have a very clear idea of the style of the vintage. It is a year that will appeal to classicists, as the wines are translucent and incredibly expressive. Stylistically, the 2010s remind me of the 2004s, but with more mid-palate pliancy and overall depth. Simply put, 2010 is the greatest young Barolo vintage I have tasted in 18 years of visiting the region and a lifetime of buying, cellaring and drinking these wines.
Tasting the 2010 Barolos at Giacomo Conterno, Monforte d'Alba
A New Paradigm for Barolo?
As structured as the 2010s are, these aren't your father's (or mother's) Barolos. In other words, the wines won't take decades to become approachable.  Significant strides in viticulture and winemaking have made today's young Barolos more approachable than they have ever been. For example, the 2008 Barolos, wines from another cool, late-maturing vintage, are surprisingly open today. Those wines may close down at some point in the future, but the days of needing to cellar Barolos for decades before they drink well is largely a thing of the past. The last vintage I can remember with truly forbidding youthful tannins is 1999.
The Market for 2010 Barolo
I expect to see considerable interest from the trade in the 2010s. The reasons are obvious. Most importantly, the wines are spectacular.  The 2010 Barolos are going to be the most exciting category to sell in 2014, that much seems clear. In Burgundy, yields of -40% to -80% and higher prices than 2011 are going to make the 2012s virtually impossible to find and very expensive. There simply isn't enough volume of 2012 Burgundy to support the trade. At the same time, consumers will continue to turn to Barolo and Barbaresco as they are priced out of Burgundy. The 2013 vintage in Bordeaux is one of the most difficult in a generation and is unlikely to generate much excitement when the en primeur campaign kicks off this spring. What about 2009 Brunello di Montalcino? The wines I have tasted from cask point to an uneven vintage.  The best 2011 Cabernet Sauvignons from Napa Valley are better than expected, but here, too, production is down sharply. I am less versed on the wines of the Rhône Valley or Spain, but I don't see a lot of excitement out there, with the exception of the usual suspects. As a result of all of these factors, I expect interest in the new Barolo vintage to be much greater than normal.
Tasting component wines for the 2011 and 2012 Barolo Le Vigne at Luciano Sandrone, Barolo
Don't Forget Dolcetto, Barbera and Langhe Nebbiolo
As thrilling as the best Barolos are, I hope readers will also take a look at the best Dolcettos, Barberas and Langhe Nebbiolos. A good general rule of thumb is to focus on the entry-level wines of the best growers, much as one might do with Bourgognes and village-level wines in Burgundy. In particular, today there are more utterly delicious Langhe Nebbiolos than ever before. The market for high-end wine remains competitive, and growers are only bottling their best under their top labels. Consumers can benefit enormously by focusing on top producers to find delicious every-day wines that won't require a second mortgage. My recent article covers several hundred delicious, entry-level wines, most of which can be had for exceedingly fair prices.
Dolcetto just after harvest at Conterno-Fantino, Monforte d'Alba
Wine is More Than a Number
While it is human nature to be drawn to the numerical ratings, I urge readers to take the time to read the tasting notes and producer commentaries, both of which will tell you more about a wine than a mere number alone ever can. The 2010 Barolo vintage is special. There are a lot of great wines in this article, and I expect there will be even more once the wines that are still in cask are bottled later this year.
Looking Ahead: Barolo 2011-2013
Even though it is still early, I find little to get excited about in the 2011 Barolos. The 2011s are rich, voluptuous wines. Although it is tempting to make comparisons with 2007, I find much less aromatic finesse and balance in the 2011s. It is also a highly inconsistent vintage. Results vary highly from cellar to cellar, that much is clear.  Right now 2011 looks to be an average vintage of big, ripe, early drinking Barolos. Of course, much can change between now and when the wines are bottled, but at the moment I can't get terribly excited about 2011.
Vintage 2012 is turning into a very pleasant surprise. The wines remind me of the 2005s because of their medium-bodied structures, aromatics and vibrancy, but the 2012s have more richness and depth, something that has always been the Achilles heel of 2005. I am not sure if 2012 is going to develop into a blockbuster vintage, but at the moment the 2012s are crystalline, pure and highly promising.
I haven't tasted any dry 2013s yet, but it is a fascinating vintage. An early attack of peronospora (downy mildew) caught growers off guard. Peronospora is usually not terribly harmful when it happens this early. Growers had a decision; to treat or not. That decision was compounded by wet conditions that made it impossible to get into the vineyards with tractors. Those who chose to spray had to do it the hard way, manually. Those who opted not to treat were crushed by what turned out to be a devastating onset of peronospora. In the worst places, production was down as much as 70%, and a handful of vineyards weren't even picked at all. By modern day standards, 2013 was a very long growing season with conditions in which Nebbiolo thrives. On paper, 2013 looks like an above average vintage at the very least. I can't wait to taste the wines.
Punching down the cap and pumping over at Giuseppe Rinaldi, November 2013. This juice will become Barolo Brunate.
Explore The Great Barolo Vineyards and Wines
Within the next few weeks we will be releasing the Beta version of our new interactive Barolo map. I start by breaking down the Barolo vineyard designations 'menzioni geografiche' into Grandi Cru del Barolo, Primi Cru del Barolo and Menzioni del Barolo, an equivalent to Burgundy's Grand Crus, Premier Crus and villages vineyards. From there, readers will be able to learn the basics about each of the sites; including surface area and altitude, and for sites that produce single-vineyard Barolos, the attributes of the wines along with reference-point bottlings. Lastly, readers will be able to explore the wines from each vineyard by linking into the Vinous database, which includes reviews of more than 3,000 Barolos, including virtually all of the widely accepted benchmarks. We will then create a similar map for Barbaresco before turning our attention to California.
Vigna Rionda as seen across the valley from Castelletto, Monforte
Cannubi…Everyone Loses
Over the last few years, the villages in Barolo have been engaged in an exercise to codify the boundaries of their vineyards or 'menzioni geografiche'. Cannubi is the most famous and well-known vineyard in Barolo. In truth though, Cannubi is not really a vineyard at all, but is best described as a hillside. Several well-established subdivisions exist within Cannubi; Cannubi-Boschis, Cannubi-San Lorenzo, Cannubi-Valletta and Cannubi-Muscatel. In an effort to more clearly delineate these sub-zones, authorities charged with defining the new naming conventions ruled that producers would have to label their Barolos according by sub-zone, rather than use the broader Cannubi designation, as many wineries had done previously for decades. For example, a grower with vineyards in Cannubi-San Lorenzo would be required to label their wines 'Cannubi-San Lorenzo' and not simply 'Cannubi.'
But a few producers objected because they had always just used the designation 'Cannubi' for their Barolos and they feared creating confusion in the market with what would look like new wine names, so they appealed the decision. This faction was led by Marchesi di Barolo, one of the most storied wineries in Barolo, and its owners, the Abbona family, who argued that historically they had always used the Cannubi designation for their wines and therefore they should be able to continue to do so. Their position was that it should be the choice of the producer to use the broader Cannubi name or one of the more specific vineyard designations. Marchesi's recent appeal was upheld and the original ruling was overturned in Marchesi's favor.
Although the dispute over Cannubi has recently gotten considerable press, conflicts between these two factions have existed over this issue for twenty years or so. I spent many hours reviewing the extensive material collected by Marchesi di Barolo to support their case. The Cannubi designation appears on Abbona labels going back to 1904. There is no question Marchesi di Barolo have labeled their Barolo 'Cannubi' for several generations. At the same time, though, it is important to note that 100 years ago, Piedmont was the Wild West when it came to naming conventions. For example, I have seen bottles of 'Barbaresco Cannubi' from the 1950s! It was not until the 1980s that the first serious efforts were made to ensure wines were labeled accurately.
As far as I have been able to ascertain, Marchesi's present-day Cannubi holdings are centered in Muscatel, while a second parcel lies in the central part of the hill. However, Marchesi recently lost access to a third parcel owned by Pietro Scarzello, Ernesto Abbona's cousin, that is now being leased to Damilano and that informed the Marchesi Cannubi Barolos for years. Naturally, it is hard, if not impossible, to know with certainty which fruit was going into which wines and when.
Lost in this war – and it is a war – between producers is the rights of the most important person in this whole saga. Those of the consumer who support Barolo and its wineries, and without whom there would be no wine industry at all. Laws and regulations should exist to protect the rights of the consumer, not a winemaker or a group of winemakers. In my opinion, the question is not what was done in the past, but what should be done in the future. And in this context there is no question that more information and clarity is preferable to less.
The Cannubi Vineyard, Barolo
It is impossible for an outsider – or maybe anyone – to know who is right and who is wrong. What is clear is that everyone is a loser. Consumers are hurt because of a lack of transparency in labeling. This is by far the most egregious of all the results of this situation. The commercial interests of essentially one winery have prevailed over the interests of the very people who buy the wines of Barolo, who support the local economy, and who make it possible for people to have jobs. If you think I am exaggerating, consider that the traceability of food products is far greater than what exists for wine.
Over the last few years, there has been a rise of new regulations and enforcement of those laws that have resulted in a degree of bureaucracy and record keeping that is astonishing, especially within the context of what has been the norm in Italy. In my view, regulations should exist to protect the interests of the consumer. Here, though, the opposite seems to be taking place.
And what about Marchesi di Barolo? Over time they risk being big losers too.  Traditionally Cannubi-Muscatel has not been among the most highly regarded zones for growing Barolo grapes within Cannubi. Although no one knows for sure, the vineyard's name appears to originate from the planting of Moscato – either partly, or wholly – on this site. A hundred years ago, it was common for growers to interplant a few rows of Moscato in their red variety vineyards.
Sure, Marchesi di Barolo's right to call their Barolo 'Cannubi' instead of 'Cannubi-Muscatel' today might result in greater commercial success. But what will happen when broad Cannubi tastings are organized 5, 10, 20 years from now? The Marchesi's Barolos are going to be disadvantaged because they will be compared to wines made from the heart of the Cannubi hillside. It would seem to me a better approach might be to explore the true characteristics of Cannubi-Muscatel and see what kind of wine that site is capable of producing.
The Book
It's time. I have been buying and drinking Piedmont wines for as long as I can remember. My father introduced me to Barolo when I was 9 or 10. I tasted my first 1982s with him. Later, when I was on my own, Barolo was well beyond my means, but I drank plenty of Dolcetto and Barbera. One of my early inspirations was Burton Anderson's Wine Atlas of Italy, which I read cover to cover many times. I first visited Piedmont nearly twenty years ago and became even more fascinated with the region. In 2000 I moved to Italy and spent pretty much every minute of free time in the Langhe. I had a dream of writing a book about Piedmont, as I felt Italian wines weren't being covered as thoroughly as they deserved to be. That book morphed into Piedmont Report. Now, a decade later, I am going to go back to my original vision, which is to write a comprehensive book on the great wines of Barolo and Barbaresco. If all goes well, we intend to publish in 2015. It would be a massive understatement to say I am super-excited about this project.
A typical tasting at Vietti, the 2012, 2011, 2010 and 2003 Barolos
Coming Soon…
Readers can look forward to several additional articles over the next few months.  Piedmont coverage continues with a major retrospective of the 1999 vintage in both Barolo and Barbaresco. I then turn my attention to the 2003 Barolos, wines that have mostly developed far better than anyone could have imagined a decade ago. A vertical of Giacomo Conterno's Barbera d'Alba Cascina Francia is also on the horizon.
Giacomo Conterno's Cascina Francia vineyard, Serralunga d'Alba
2010 Barolo: Flying High Again, Part 2
The late-bottled 2010 Barolos confirm first impressions – 2010 is one of the all-time great vintages for Italy's most noble red.
This latest set of new releases is full of highlights. The 2010s are vibrant, finely sculpted Barolos built on power and intensity. For more on the 2010 growing season and wines, readers might enjoy taking a look back at 2010 Barolo: Flying High Again, which was published in January 2014.
Castiglione Falletto with Cavallotto's Bricco Boschis vineyard below
Interactive Barolo Map
Over the last few weeks we have begun posting photos and producer video interviews on our Interactive Barolo Map with the goal of highlighting the unique attributes of the region's top vineyard sites. Readers can now look up a specific vineyard, learn about its attributes, see photos, watch producers talk about the vineyards and browse all of the wines from those sites in the Vinous database.
All of the wines in this article were tasted in July and August 2014. As always, there were a few wines that I missed, either because they arrived late or had just been bottled, most notably the wines of Francesco Rinaldi and Giuseppe Mascarello. We will post updates to the site as soon as I have had a chance to taste those wines.
2011 Barolo – A First Look
The 2011 Barolos continue to surprise. Radiant, open and already quite expressive, the 2011s show terrific potential.
I admit I haven't always been a fan of the 2011 Barolos. Over time, though, the cream has risen to the top. One of my concerns since I first started tasting the 2011s a few years ago was the lack of site-specific signatures. Now that the wines have had time to come together what emerges is a much more complex picture. The personalities of the truly great sites are very much alive in the best 2011s, but as one moves down the ladder of vineyard quality things get a little trickier and less defined. In 2011, the wines are deeply marked by the specific choices producers made, whereas in years like 2010 it is the vintage itself that speaks most eloquently. 
The best 2011 Barolos are pretty, silky wines that are likely to drink well pretty much upon release. My impression is that this is not a vintage to cellar for the long term, but, then again, Nebbiolo has a way of transforming in bottle, so we will see. The 2011s are a step down from the 2010s but more consistent and higher in quality than the 2009s. Overall, 2011 is a vintage with more variability than is the norm in a truly great year, but there are plenty of highlights nonetheless. 

Monvigliero, Verduno
At the time of my visits in July and August 2014, I expected to see all of the 2011 Barolos still in barrel, but instead I found quite a few wines in bottle. A handful of growers have quietly begun moving up their bottling dates now that the minimum oak aging requirement for Barolo has been lowered from two years to 18 months. The rationale for shortening the amount of time a wine spends in oak centers around preserving fruit and freshness, but, as with everything, there are multiple views on that subject. In addition, a number of the producers I visited felt that because of the precocious personality of the year, their 2011s were ready earlier than normal, so the wines went into bottle anywhere from a few weeks to a few months ahead of schedule.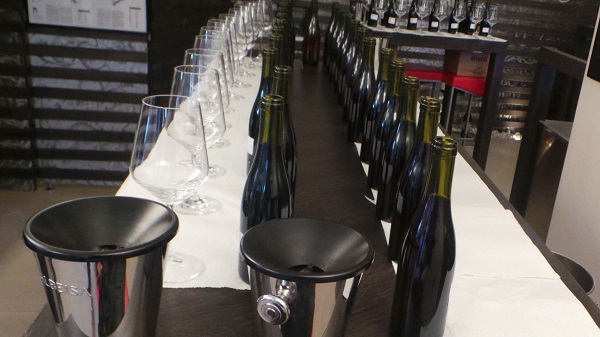 Tasting a wide range of wines from bottle and barrel at Vietti
The 2011 Growing Season and Wines
The 2011 growing season got off to a very early start with a warm spring that had flowers and plants in bloom a full month ahead of schedule. It was also a very dry year with virtually no precipitation. The summer turned cooler, but dry conditions persisted. The most critical time of the year came after August 15, when temperatures soared, causing dehydration on the vine and a rapid accumulation of sugars. Still, even with all the heat, there were no spikes to speak of, just consistently higher than normal temperatures for extended periods of time. Some growers reported heat stressed wines, while others spoke more of dehydration and concentration. At the end of the day, though, the growing season as measured by the number of days from bloom to harvest was within the normal timeframe in most places. 
Overall, the style of the vintage can be described as a synthesis of 2007 and 2009. The 2011s have the sweetness and resonance of the 2007s but with less opulence and a more medium-bodied sense of structure that recalls the 2009s. As one might reasonably expect, quality is not as consistent as it is in the very best vintages. Readers will find a little bit of everything in the 2011s. Some wines are alcoholic and heavy, while others are much more refined. Given how accessible the wines are today, my expectation is that the best 2011s will drink well right out of the gate and offer excellent near to medium-term potential. The 2011s have turned out to be very much a vintage of place. In the top sites the wines often speak with true nobility and a sense of terroir, whereas in second and third tier vineyards the vintage covers some of those nuances.
Luciano Sandrone's winery in Barolo, where no detail is overlooked
3+7+9 = 2011
There is little question growers have become more accustomed to dealing with warm growing seasons. De-leafing, a common practice in the 1990s, is much less widespread today. Yields aren't as low as they once were, while some growers have begun to move up their harvesting dates. Most importantly, though, the vines themselves have adapted to increasingly precocious vintages. For all of those reasons, the 2011s aren't as overt or ripe as might have been expected.
These ancient marine deposits in Bussia are at least seven million years old. Note the combination blue/gray marl with sandier soils that is typical in parts of Barolo
Piedmont – What Lies Ahead…? 

I believe Piedmont is the single most exciting red wine region in the world today. Climate change and better vineyard practices have resulted in wines with riper tannins and much more early approachability than has ever been the case. Modernist producers have backed off the excessively low yields that were the rage in the 1990s and have learned to use French oak with greater skill, while more traditionally leaning growers have lowered yields and switched out their old botti. Best of all for consumers, the number of quality producers has never been higher. Aside from 2002, when virtually no wine was bottled, and 2003, which was abnormally hot in all of Europe, Barolo hasn't really seen poor vintages since the early 1990s. All of that adds up to what is shaping up to be a Golden Age for Barolo and Piedmont more broadly, where the same macro trends also apply.
Not surprisingly, interest in the wines is at an all-time high. Every time I go to Napa Valley, Burgundy or Champagne, producers quiz me about Barolo and Barbaresco. When I am in Piedmont rarely does a week go by without hearing about a world-class producer from another region who is visiting the area. Tourism is on the rise. What was once a highly seasonal trade has developed into a year-round business, with the greatest increase in the summer months. It wasn't that way just a few years ago.
Bordeaux is and will remain a benchmark, but three consecutive challenging vintages and high prices for the most desired wines have clearly left a significant number of consumers feeling disenfranchised. Bordeaux is a classic though, and classics never go out of style over the long-term. Burgundy hasn't had a normal crop since 2009, while prices have spiraled into the stratosphere. California's best wines are fabulous, but production is small, while the lion's share of the wines are snapped up by the local California and US markets. There does appear to be some growing interest in Europe for California wines in response to escalating prices in Burgundy and the Rhône, but there just isn't enough wine to go around. All of that creates a huge void that Piedmont is well poised to fill. Although Piedmont is today often compared to Burgundy for its artisan, grower spirit and an emphasis on wines that speak to site, its origins are rooted in nobility, just one of the many dualities that makes the region and its wines so appealing.
This view of Gattera, shot at Revello, stretches to Cordero di Montezemolo, where the famous Cedar of Lebanon can be seen atop Bricco Gattera
The last few years have seen significant pricing pressure on vineyard land. Many of the growers I visit regularly are concerned that soon the locals won't be able to afford land, as is often the case now in Burgundy. Foreign investors have made small acquisitions, but so far, none of the big multinational firms have entered Piedmont. So far. But it is only a matter of time. LVMH has recently taken over the distribution of Boroli's wines in most global markets, another sign of the growing strategic importance of Piedmont in the world. A large American corporation is said to be eyeing one of Barolo's most famous estates. It is only a matter of time before major foreign investment arrives in Piedmont. When that happens, the price of real estate will skyrocket, which will in turn lead to price increases for wines themselves. For better or worse, this is a 'not if but when' scenario.

Factor in breathtaking scenery, an extraordinary culinary scene and UNESCO status, and it doesn't take a genius to figure out that Piedmont is about to explode onto the world's consciousness imminently. Lastly, all of that has taken place without any real significant interest in these wines from Asian markets.
Aldo Vajra's winery, Barolo
Piedmont and UNESCO – The Hard Work Starts Now
A few years ago, I was staying in one of Piedmont's nicest hotels. On the day of my checkout I had to leave very early to catch a plane back to the US. I asked if the hotel could prepare a light breakfast. The answer was a clear and resounding 'no.' Not even a cup of coffee. The very next year I did a television interview that was broadcast widely. When I got back to the hotel that afternoon the staff was incredibly polite and accommodating. When I checked out at my customary early morning hour, I was shocked to see the entire breakfast buffet waiting for me. This, in a nutshell, is the problem with the Italian hospitality industry. It's all about who you are, what car you drive or what watch you wear. That attitude is nothing short of disgraceful. In today's world, and at highest levels of hospitality, every guest MUST be treated as a VIP. It's as simple as that.
Some months later, in New York, I was waiting for my lunch guest at one of New York City's top restaurants. A family of four walked in off the street, totally disheveled, with no reservation. No problem at all, came the reply from the host. The guests were seated immediately and treated as if they owned the place. I learned an important lesson that day about what true hospitality is and should be.
Pietro Ratti and the Italian delegation that put forth Piedmont's successful UNESCO candidacy deserve the heartiest of congratulations. Italy is a country with highly unstable public organizations, a government that on average changes once a year, and an overall culture that is full of drama with little in the way of cooperation. Just look at the Serie A soccer league. Every match is life or death.
Rocche di Castiglione, one of Barolo's steepest sites
The other wine-producing areas that are also world heritage sites are but four; St. Emilion, Tokaj, Douro and Middle Rhine, so this is rarified company. (The City of Bordeaux and the Loire Valley are also World Heritage sites, but their Justifications for Inscription make no reference to vineyards or wine.) Piedmont's entrance into this elite group is a huge achievement, but it is an even greater responsibility. Piedmont needs to be up to the task of welcoming what is sure to be an increasing number of first-time visitors, and making sure they become repeat visitors. There is a real risk that complacency will set in if hoteliers and restaurateurs decide they are going to get the business anyway, so why bother making additional investments?
Among other things, this means the proper storage of wine in restaurants. A Vinous reader recently told me about ordering a bottle of Vietti's 2010 Barolo Castiglione in a restaurant in Alba and being served the wine at summertime room temperature, around 77 degrees (25 Celsius). How a restaurateur can show such a lack of respect to one of the world's great wines is beyond me. I am sure the butter, eggs and milk are in the refrigerator. Italy now has very specific laws regarding the treatment of raw fish and seafood in restaurants. True, warm wine is not health threat, but it is often the highest value item visitors consume and without question one of the main reasons tourists frequent the region's best restaurants.
Historically, Italians have had a love-hate relationship with air conditioning, but that is gradually starting to change. Just last summer, in one of Tuscany's Michelin-starred restaurants, we were served a beautifully chilled bottle of San Pellegrino. You know the bottle, the fancy one with the Bulgari label. Our 2006 Montevertine Pergole Torte? Served nicely cooked at around 90 degrees. It's great to see that at least the water is treated with respect. Maybe there is some hope for wine after all. Readers should feel no hesitation sending back poorly stored or damaged bottles in restaurants.
Cerequio as seen from Cannubi
Barrel Scores – A Practical Guide
Most of the wines in this article were tasted from barrel or tank in July and August 2014, just prior to bottling. Readers should be aware that tasting notes for wines tasted from barrel are always approximations of finished wines. For that reason, scores are presented in brackets. It is not uncommon for growers in Piedmont to leave SO2 levels low during the last phase of aging before making final adjustments ahead of bottling. Low SO2 levels can make wines appear flabby, oxidized and unfocused. A number of estates I cover don't usually show wines from barrel and/or tend to release later than most, including Aldo Conterno, Gaja, Pio Cesare, Francesco Rinaldi and Roagna. I will taste the 2011s again in the fall, as I always do, before publishing final reviews.
-- Antonio Galloni